The following classes will be offered in the Global Business Program.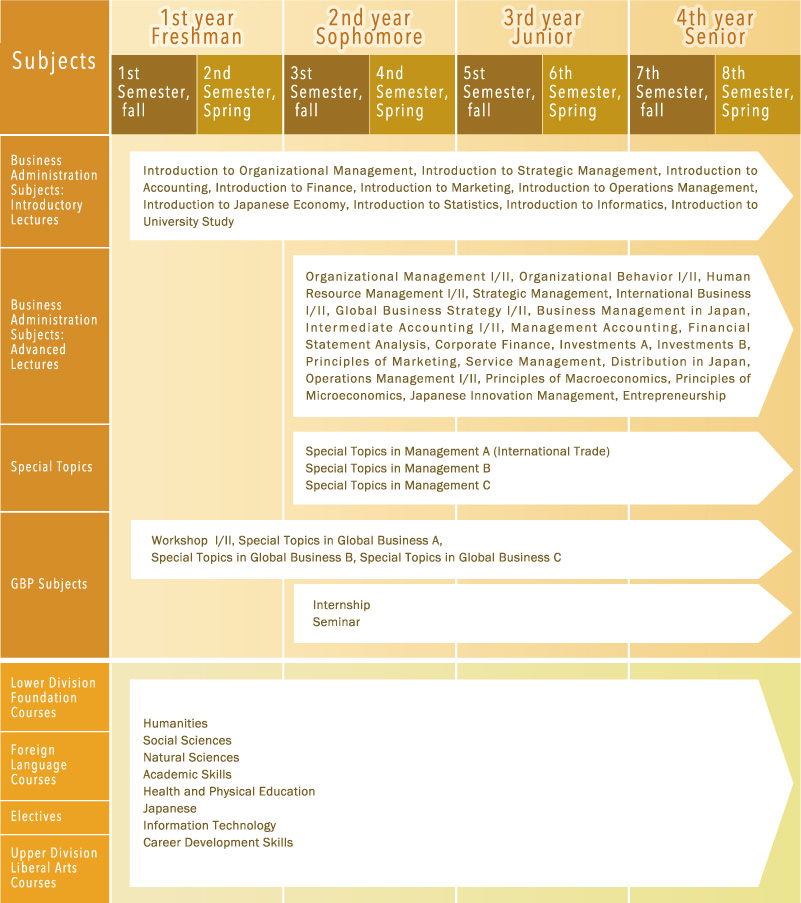 Organizational behavior I/II
Organizational behavior seeks to understand human behavior in organizational contexts. Students will learn the basic concepts and theories of organizational behavior, mainly developed in the field of psychology, social psychology, and sociology. The first half of this course will focus on the attitudes and behavior of people in general, such as individual perception, learning, motivation, and decision making. The second half will examine the behavior of people and groups in organizations, such as teamwork, communication, leadership. Also, relatively new topics in organizational behavior, such as gender differences, employee well-being, will be covered. As students' cultural backgrounds vary, cultural influences on organizational behavior will also be taken into account. Students will be expected not only to understand the basic concepts and theories of organizational behavior, but also to apply knowledge and understanding to organizational settings. Thus, this course will enable students to prepare for their future managerial careers.
Human Resource Management I/II
This course is intended to introduce students to the field of human resource management (HRM). Students learn theories and applications involved in effectively managing people in organizations. More specifically, this course covers such topics as recruitment, training, promotion, pay, benefits, performance evaluation, dismissal, job design, and labor-management relations. Furthermore, some current topics in HRM are covered, such as effects of aging and diminishing workforce, non-regular workers, diversity management, work/life balance and globalization. Practices among Japanese firms are mainly examined throughout, but international comparative perspectives are introduced as well.
Successful students will acquire problem-solving and critical-thinking skills, in addition to basic concepts and relevant working knowledge of HRM, both of which are applicable to all types of organizations and jobs in which students will eventually work.
HRM I (Fall) and II (Spring) are taught in a sequential manner. So it is recommended that students take both courses in this order. Some basic knowledge of economics and organizational behavior is preferred but not required.
Global Business Strategy I/II
Why do some firms succeed overseas and others fail? Successful firms in the home country often fail to gain competitive advantages in foreign markets. One critical factor for this is difference between the home and host countries. Because of the difference in economic, political, and socio-cultural environments, simply applying strategies employed in the home country does not ensure overseas success. Firms need to develop global business strategies by accommodating these differences. This course introduces students to basic concepts and theories to understand global business strategy and the drivers of international success. The topics of this course include: understanding global business environments, definition of multinational corporations, theories to explain foreign direct investments and internationalization of firms, how to enter foreign markets, strategies of multinational corporations, how to staff foreign subsidiaries, and how to form and manage international strategic alliances. At the end of this course, students will be able to understand how firms compete with local rivals in a different business environment from the home country and how to analyze success and failure of firms in foreign markets.
Management Accounting
In Management Accounting, we will focus on how managers use accounting information in making decisions and to monitor the behaviors of other members of their companies. We will use managerial and organizational perspectives to build a framework for understanding internal accounting systems. Management accounting framework includes identifying the information needs of managers and developing the systems required to meet those needs, such as long term planning/forecasts, budgeting, break-even analysis, and performance measurement.
In this class we will apply the management accounting framework to short business cases. Management accounting is not an abstract calculation formula only found in textbooks and totally unrelated to real business situations, but a systematized way for managers to interpret various important data and communicate, and sometimes persuade, their stakeholders. You will learn how managers provide strategic judgment on financial matters, how to interpret and communicate financial data to stakeholders and how to monitor and evaluate organizational performance utilizing financial and non-financial information.
Principles of Microeconomics
Microeconomics is a core subject of economics as is macroeconomics. Analytical methods and theoretical approaches of these two studies have been applied to not only various economics fields but also in other social science fields, including business administration. Microeconomics analyzes the good decision-making and the optimal allocation of our limited resources in society, in which many individuals and firms have different viewpoints and objectives. The purpose of this course is to provide students with basic tools necessary for microeconomic analysis at the introductory level. We learn how consumers and producers behave in the market, how market mechanisms work effectively, what social structures and rules are necessary to construct a good market, and how theory is applicable to the real world economy and business. The Hosei Global Business Program provides a class for freshman, Introduction to Japanese Economy, to focus on practical aspects of economics, such as characteristics and historical background of the economy in Japan, and an additional two classes for sophomores or upper classmen, Principles of Microeconomics and Principles of Macroeconomics, are provided to focus on theoretical aspects of economics.
Marketing
What is Marketing? Marketing is bundle of various activities for creating values customers want. This class, by using Marketing concepts and theoretical frameworks and along with specific case studies of successful organizations and/or companies in Marketing, argues why and how to satisfy customers. By actively participating in this class, students can acquire three major skills. First, students systematically understand Marketing by learning lower research fields including marketing research, product development, distribution, promotion, consumer behaviors and service management. Secondly, students learn to theoretically and logically explain phenomena surrounding them. For example, by watching TV commercials, students will understand who the targeted customers of the product are and what value the company tries to create. Thirdly, As a result of examining case studies and/or learning practical and realistic trends of Marketing from guest speakers, students will be expected to work as quick and versatile Marketers in the Japanese or foreign companies soon after graduating from Hosei.